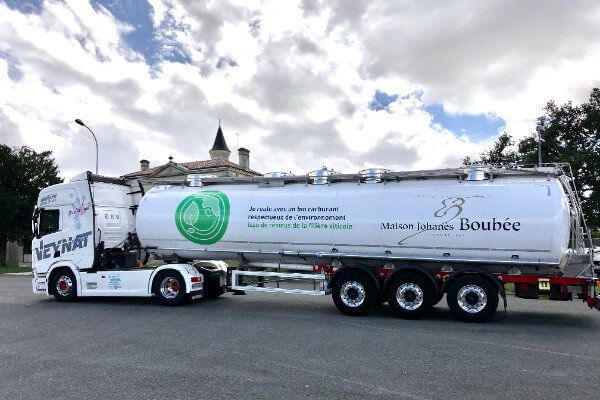 14 October 2020
JOHANÉS BOUBÉE rolls with the wine residues
The Bordeaux trader has joined forces with the Gironde-based carrier Veynat and the Raisinor group to run its tanks on 2nd generation bioethanol
The experiment started in November 2019 at the logistics and bottling site in Beychac-et-Caillau in the Gironde and at the site in Nîmes in the Gard, two of the seven sites of Maison Johanès Boubée. "We want to make our activities greener and act sustainably to reduce our environmental impact and thus reduce CO2 emissions," says Mathieu Soulard, operations director and head of operational sites in France. The Carrefour group's wine subsidiary has therefore entered into a partnership with the Raisinor group's distilleries, which process grape marc to extract ethanol, and with the Girondin carrier Veynat, which has undertaken to put tankers on the road (one per site) that run on second generation bioethanol (ED 95). The lorries collect the bulk wines from the winegrowers' properties and transport them to the Boubée site.
The Beychac-et-Caillau unit, which processes 500,000 hl per year, produces some 35 million bottles. The Nîmes site, which processes 700,000 hl, produces 45 million bottles per year. Johanès Boubée has joined forces with the Gironde-based carrier Veynat and the Raisinor group to run its tanks on 2nd generation bioethanol.
A resource that is not infinite
Mathieu Soulard does not dare to give an initial assessment of this experiment: "It's far too early," he says, while pointing out that this bioethanol resource is not infinite. Added to this is the economic cost. ED 95 from vineyards is less expensive per litre (€0.85 excluding VAT compared with €1.25 excluding VAT for diesel for professional use) but it leads to significant additional consumption (of the order of at least 40%).
Other experiments underway
Johanès Boubée is more prolix when it comes to mentioning other experiments. Carrefour, for example, is running tanker trucks on biomethane. The first truck was delivered in 2012. The deployment was launched in 2014. Carrefour already runs 450 biomethane trucks to deliver its shops in major French cities every day. In 2021, the Nîmes and Beychac-et-Caillau sites should be equipped with this type of truck running on biomethane. The downstream part will be concerned. The tanker trucks loaded with cylinders will supply Carrefour's warehouses. The same type of partnership will be launched with biomethane transporters and suppliers. The objective by 2030 is to reduce greenhouse gas emissions per pallet transported by 20% compared to 2019.
Source: https://www.vitisphere.com/actualite-92592-johanes-boubee-roule-aux-residus-vinicoles.html
Nos dernières
Actualités
Découvrez les activités du groupe.
#LESROUTESVERSDEMAIN