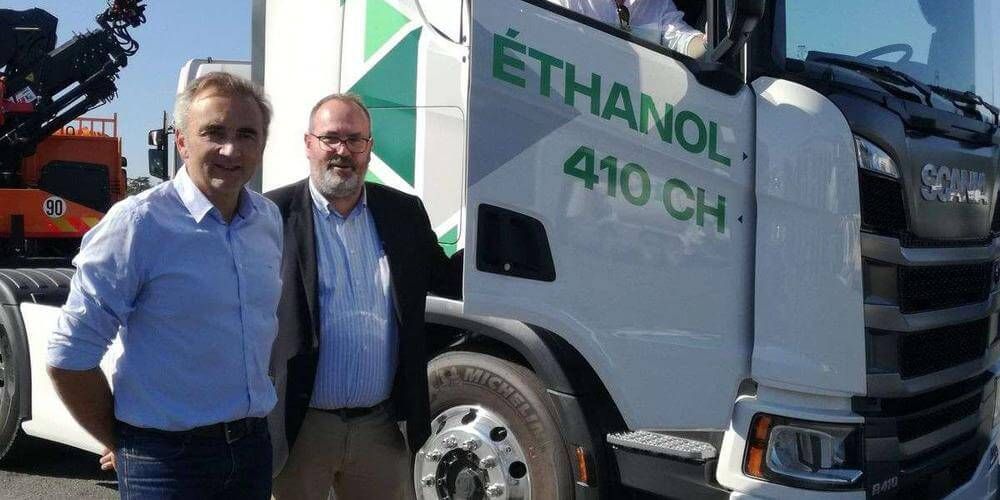 11 October 2018
VEYNAT puts grapes in its engines
Developed by Raisinor, ED95 is a fuel made from grape marc. Public and road transport start to adopt it||st-denis-de-pile The start-up Energy Pyroswiss has developed a machine that transforms plastics into fuel. A revolution supported by Smicval.
What does this truck run on? Grape juice of course! Well, almost. Its engine runs on ethanol, and more precisely on ED95, a fuel made from grape marc. Approved since 2016, this alternative to diesel was developed by the Raisinor cooperative, whose headquarters are next to the huge UCVA distillery in Coutras.
" It required a lot of work upstream to remove the barriers to marketing. The experimental phase is finally over," comments Jérôme Budua, director of Raisinor. "Of course, we cannot replace diesel in terms of production. Our potential is limited to 2,000 vehicles, but on a regional scale it is already interesting. The priority is public transport and road hauliers who want to diversify their fleet ".
The Veynat company, in Tresses, already has a truck that runs on gas.
" We are signatories to the CO2 charter promoted by the Ademe, so we try to be involved in environmental actions," explains Pierre-Olivier Veynat.
A virtuous and local cycle
His company has equipped itself with a pump dedicated to ED95 and took delivery of a latest generation truck at the end of September.
" We were waiting for this vehicle because some of our customers, particularly in the organic sector, are sensitive to the impact of their deliveries on the environment ".
The approach is coherent: using agricultural residues to transport food products makes sense. What's more, with Raisinor's ED95, the resource is local for local rotations.
The truck manufacturer Scania has only deployed two examples of this type of vehicle in France. Ferran Domenech, head of sustainable development at Scania France, is watching with interest as the regional ED95 network is set up.
" This is the beginning of an incredible solution for decarbonising road transport. The truck delivered to Veynat is equipped with a 13-litre engine that runs on ethanol. There are only two vehicles of this type in France. It's a virtuous cycle that is starting here, in a region with Bordeaux and Cognac that can supply ethanol production ".
Some patience
The Raisinor cooperative was supported by the Department first. One of the buses in the TransGironde network has been running on ethanol since 2017. The Region has recently inherited the competence of Transport and has renewed its interest in ED95. Large-scale tests will soon be carried out on the Dax bus network.
«  This model has existed for several years in Sweden, and it needs to be implemented here," concludes Jérôme Budua, who is rather optimistic about the future. Today, oil companies are buyers of ethanol. They add it to petrol. But that's not enough to offer it at the pump. The general public will have to wait a little longer.
Nos dernières
Actualités
Découvrez les activités du groupe.
#LESROUTESVERSDEMAIN